Conversation intelligence platform
Unlock the full potential of your revenue-generating team with Jiminny's conversation intelligence platform. Nurture a winning performance culture effortlessly. Highlight successes and share that knowledge across your business to improve future performance.
If you're a leader in sales, customer success or any other revenue generating team, Jiminny is built for you.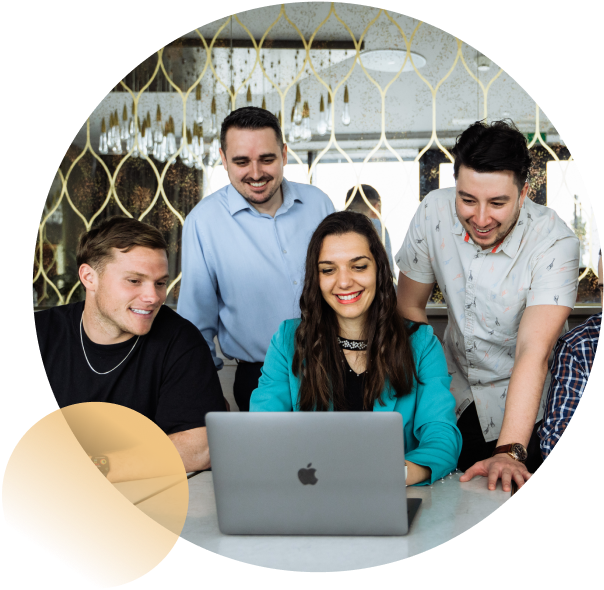 What a conversation intelligence platform does for your teams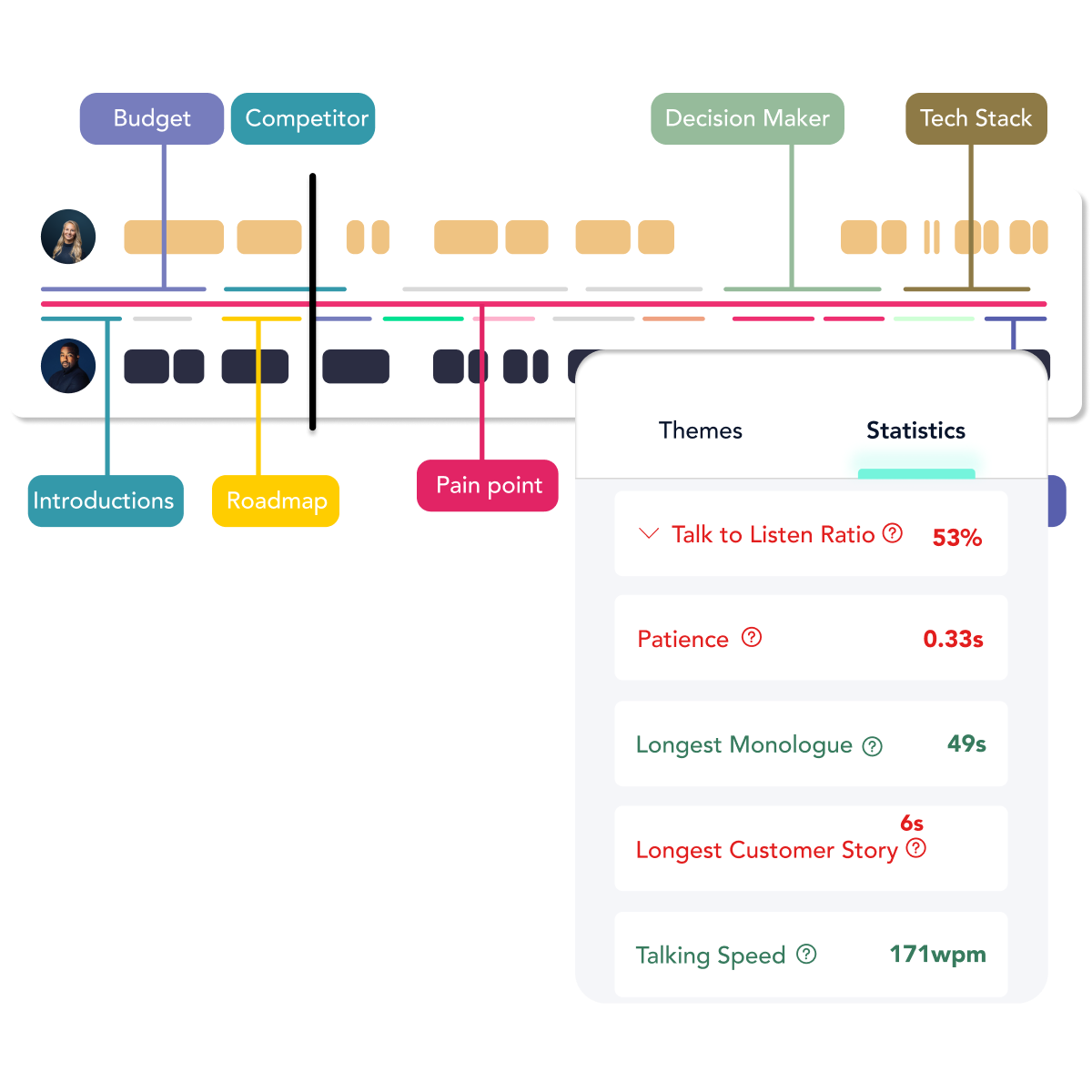 Fast-track your teams
Every new rep develops differently. And it takes time and resources to nurture and ramp each one to deliver their full potential.
Jiminny's Playlists get your new starters up to speed in a third of the usual onboarding time. Use conversation playlists compiled by your more experienced sales talent to educate reps. Empower your top performers to save conversation snippets or full calls, quickly build playlists and share with their teammates.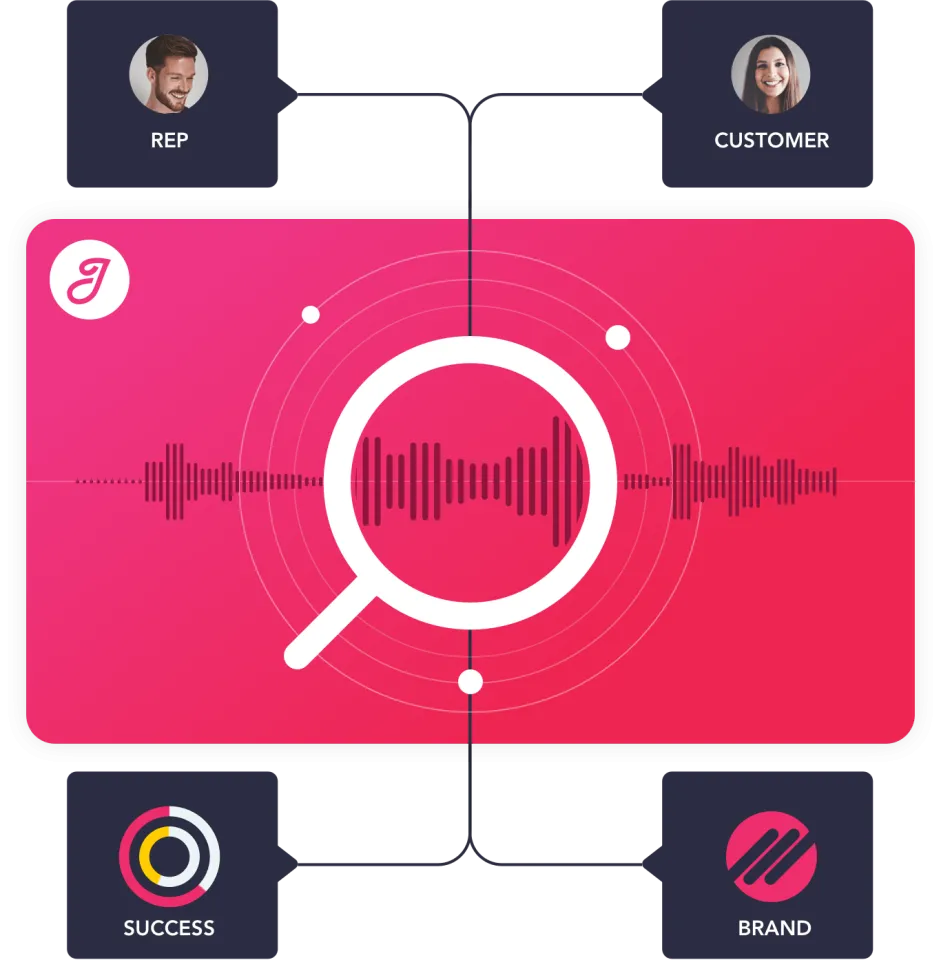 Harmonize teams business-wide
If your teams are out of sync, expect your customer experience to suffer.
Jiminny's conversation intelligence platform unifies business functions through seamless and effortless sharing of the customer's voice. Use Snippets to capture key and shareable moments of calls, and easily send them via email, links or MS Teams and Slack. Use our AI-generated call summaries to condense entire call transcripts into a succinct bullet-point list of key conversation points. Drive collaboration with shared information and smoother handovers across the business.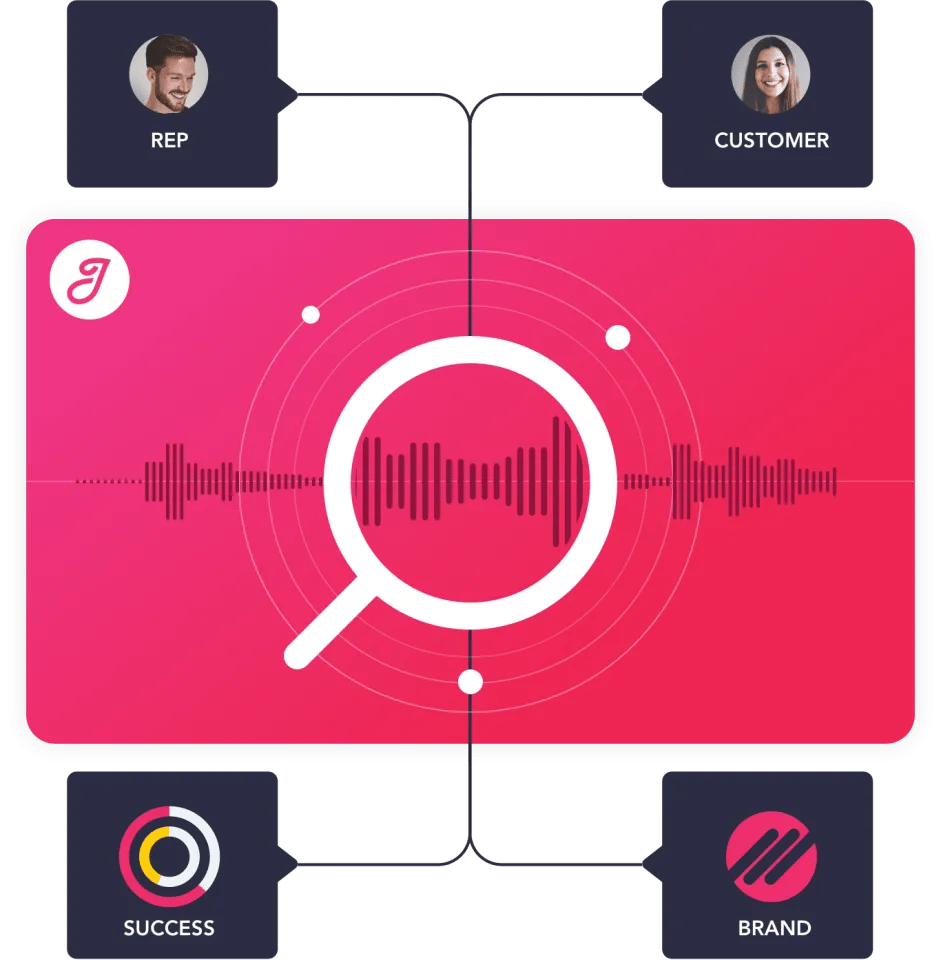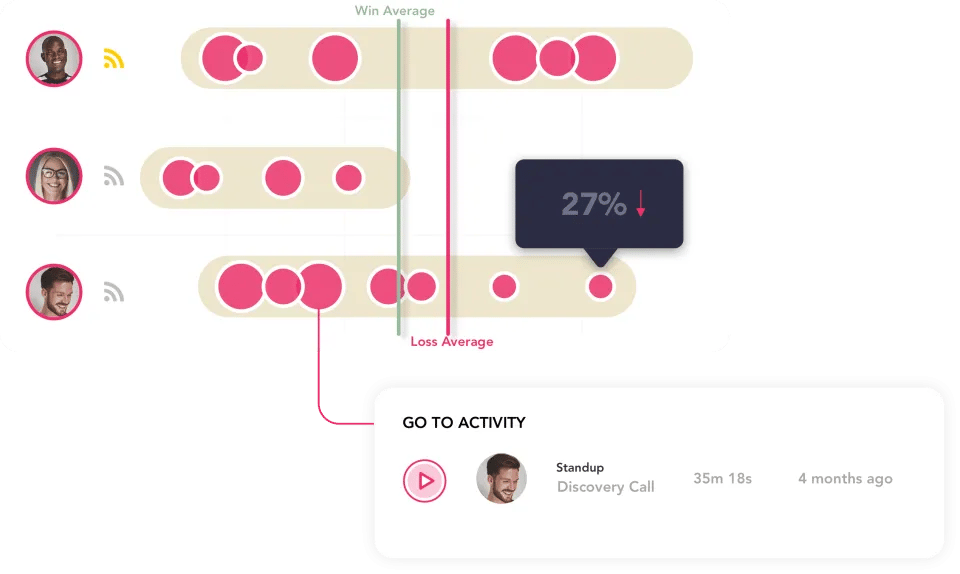 Gain end-to-end pipeline visibility
You can't convert what you can't see.
Jiminny's Deal Insights puts you in full control with a clear, centralized, end-to-end view of your pipeline. Segment by account, team, rep and opportunity status. Deep-dive into the detail of every voice, email, SMS and video touchpoint. Get real-time deal risk alerts that are automatically triggered. Get a snapshot view of engagement levels for quick and accurate forecasting.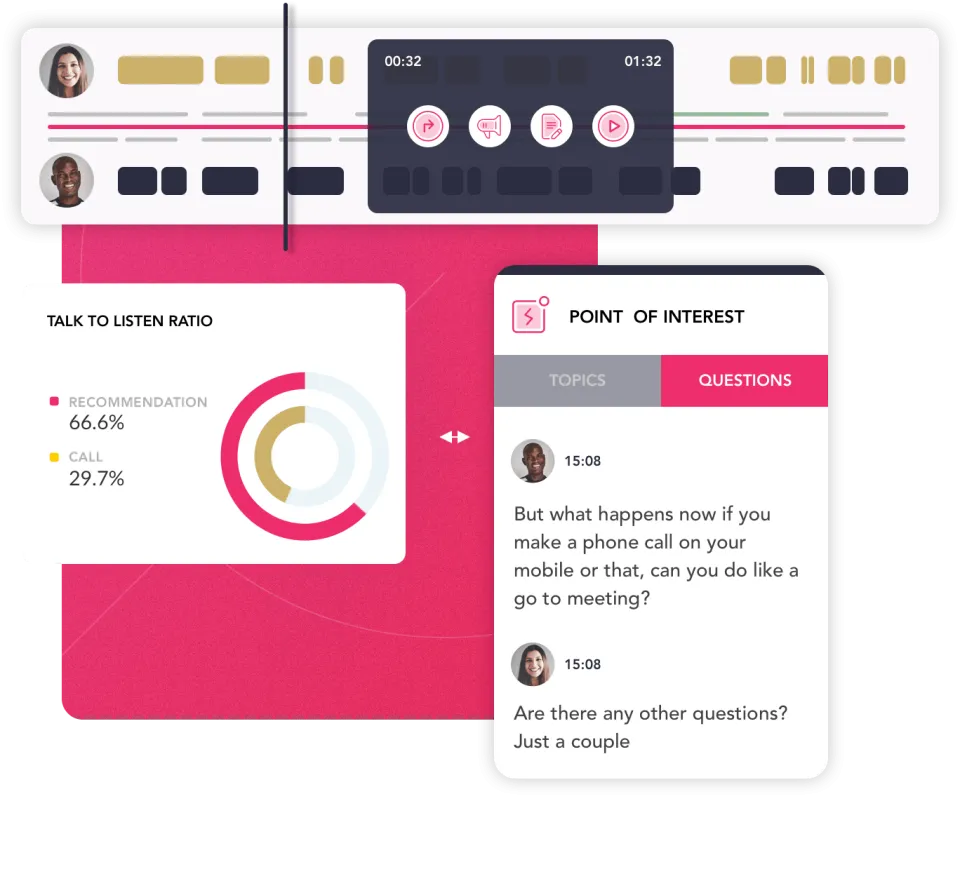 Boost motivation and retention
Our coaching tools increase retention by growing your reps' skills, self-confidence and motivation. Use Coaching Frameworks to author playbooks tailored by team, CRM activity and conversation. Refine technique on the go with our Live Coaching feature that adds real-time chat and scores to live conversations. Perfect your reps' performance with Coaching Focus by pinpointing game-changing conversation takeaways.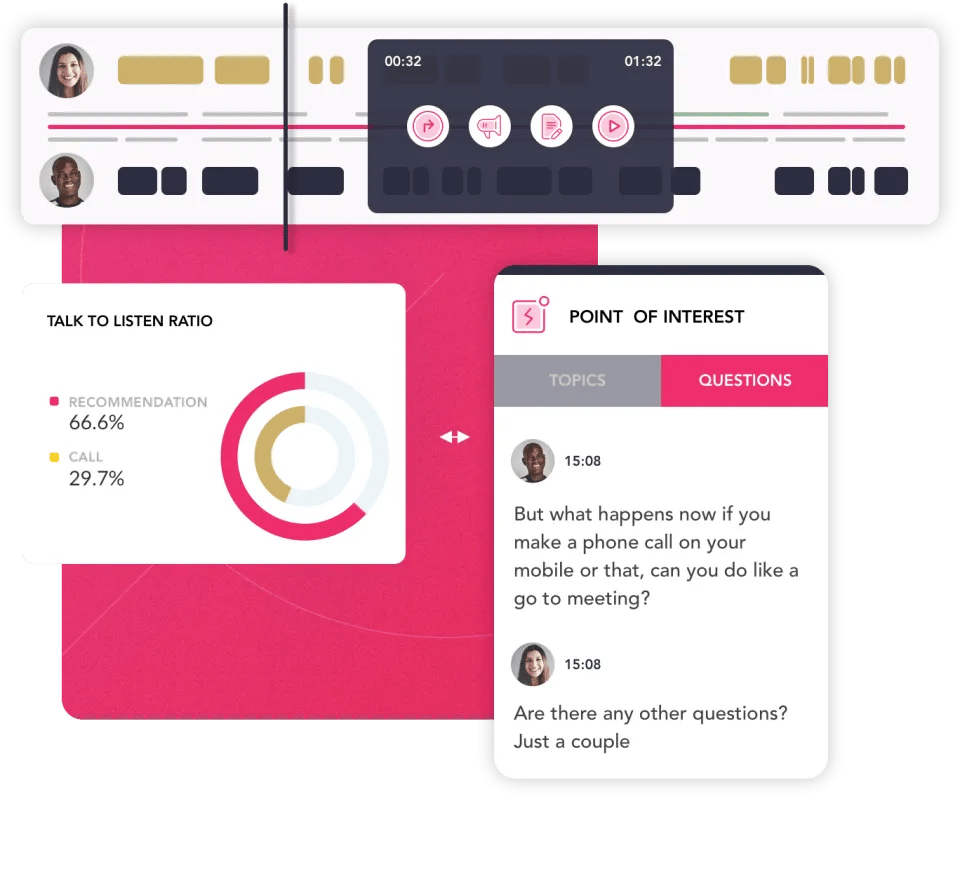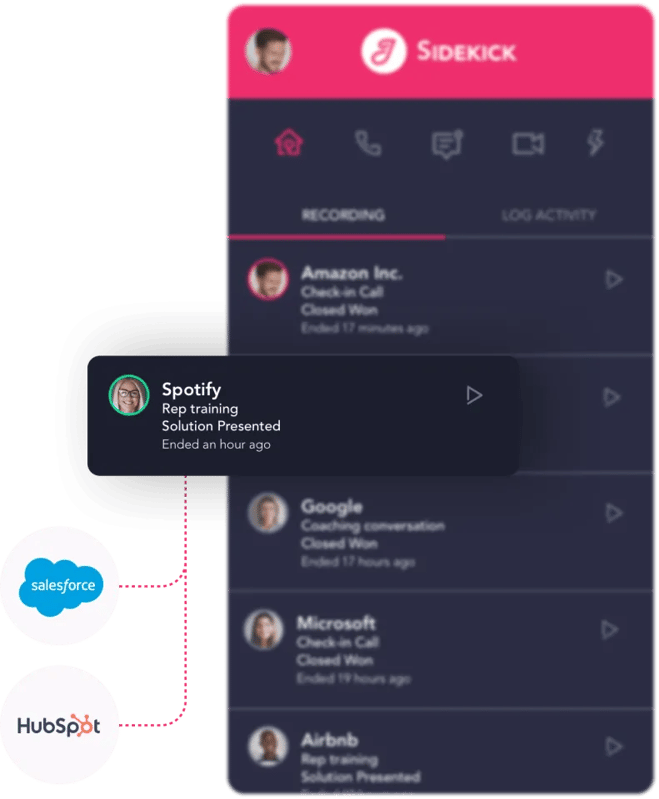 Automate logging activity to your CRM
Meet Jiminny's Sidekick, your personal sales assistant. Our Sidekick Chrome extension automatically logs all meetings and tasks to your connected CRM, making your database an accurate and up-to-date source of truth for measuring prospect and customer engagement. From Sidekick, you can take time-stamped notes, instigate live coaching sessions, update CRM-specific data such as contact stage, and more.
Sends call summaries and meeting outcomes to your CRM

Automatically locates and updates existing CRM contacts or creates a new one

Saves your sales reps hours in admin time every week
What can Jiminny do for your team?
Jiminny transforms performance across Sales teams, Customer Success teams and more.
Integrate with the tools you love
Jiminny works in harmony with your existing tech stack to accelerate performance across your business.
How teams thrive with Jiminny
Best-in-class security for all
At Jiminny, we're serious about keeping your data safe, and our platform is built with security at its core. From virtual private cloud storage to industry-best encryption, we take every precaution to safeguard your conversations and insights.
2023 leader on G2 for Conversation Intelligence
Talk to one of our sales team
See Jiminny in action or try us free for 14 days - no strings attached!